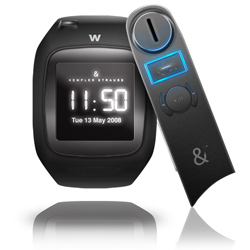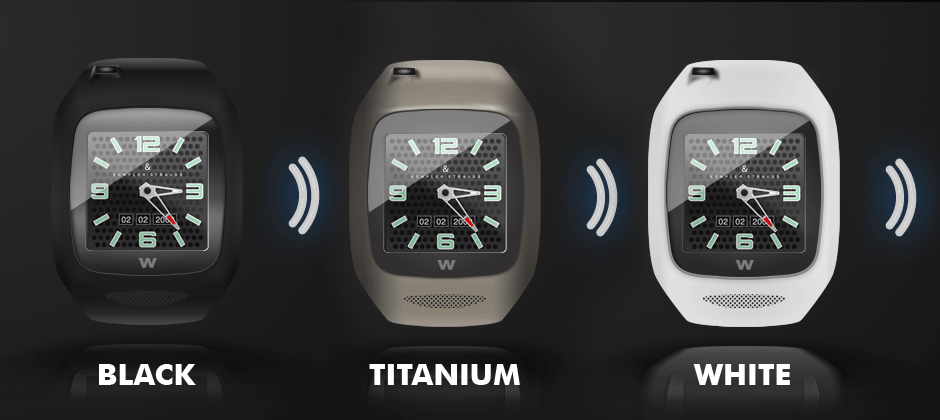 W PhoneWatch

KEMPLER & STRAUSS

GSM Compatibility: 850MHz, 900MHz, 1800MHz, 1900MHz
TouchScreen: 1.5 inch TFT LCD
Bluetooth Profiles: Handsfree, Headset, A2DP

Supports Micro SD card up to 2 GB
Built-In Camera (pics and video)
Multimedia capable

$199.99




NOW FREE SHIPPING (USA ONLY)

Buy NOW!!




W Phonewatch + Communicator
The Innovative W PhoneWatch with Communicator Integrates a Robust Set of Features and Functions Including Cell Phone, Color Photo/Video Camera, MP3 Player, and Productivity Applications
The W PhoneWatch, which at first glance appears to be an attractive digital wristwatch, is a full-function integrated advanced communications device. The W PhoneWatch incorporates a GSM phone that supports the 850MHz, 900MHz, 1800MHz, and 1900MHz bands. The 1.5-inch TFT LCD micro-touch touchscreen features a screen resolution of 128 x 128 and displays 260,000 colors. The watch measures a mere 57 x 45 x 18mm and weighs only 2.5 ounces.
Fully compatible with Bluetooth v2.0 headset and hands-free devices, the W PhoneWatch incorporates a still camera that captures JPEG images at resolutions up to 640 x 480. The integrated video camera captures video in MPEG 4 (AVI) format at a resolution of 128 x 104. The W PhoneWatch supports video playback of MPEG4 files and music files including MP3, WMA, WAV, and AMR.
The W PhoneWatch feature set includes: phonebook, SMS, call history, MP3 player, video player, video recorder, camera, utilities, games, and a file manager. The multiple-language interface includes support for English, French, Russian, Arabic, German, and Italian.
The W PhoneWatch, which can be charged by USB or via the included battery charger, provides up to 150 minutes talk time, up to 150 minutes of music playback, and up to 100 hours of standby time.

The Kempler & Strauss W Phone Watch is backed by a one-year warranty.
Return Policy: Product sholud be returned within 7 days of receipt and will be charged a 20% restocking fee.