Featured in

the X2 are absolutely worth a look for their impulse price, actual stereo, and saved space
-GIZMODO
Link Both Speakers 111
The X2 Wireless Surround Speakers link up and divide your music into 2 channels, creating a surround sound experience with unparalleled instrumental clarity and power.
The Stereo / Surround Effect has blown me Away
- AMAZON REVIEW

i TRAVEL EXTENSIVELY AND THESE SPEAKERS ARE JUST WHAT i'VE BEEN LOOKING FOR
- AMAZON REVIEW

Ultra Portable
The sleek aluminum body and their tiny size makes them the perfect companion for any trip you take!
3d Surround audio
Wireless Surround technology transports you to the stage, so you can listen to the bass on your right, the guitar to your left, and the vocals in the middle.

Don't take our word for how great the X2 are?
Take Theirs
Mark Kern
Feb 9, 2018 - 5 / 5
My friend introduced me to these speakers a few weeks ago. I use portable speakers a lot when I train outdoors and when I heard the quality of these speakers that can fit into the palm of your hand I was sold. So cool that the two speakers can connect to the same audio source and produce awesome surround sound. Definitely recommend them!
Andy
Jan 27, 2018 - 4/5
I have been using these set roughly arm's length away on what ever table, windowsill, etc. was near where I was sitting. The stereo / surround effect has blown me away. The better quality the sound source the better it has sounded. On several of the better rez music sources, I do not hear the individual speakers at all, but a sound field somewhere around my head. Really excellent. Especially considering the price. I've only used them for a week so far, but have no problems and only positive results so far.
Amazon Customer
Feb 24, 2018 - 4/5
Nice little speakers, they sound good. They are easy to overdrive so they break up a bit but they give plenty for good listening for even a few people before that happens. I drop one star because they are a bit tricky to set up so both speakers respond to a single Bluetooth connection. After a couple of try's and reading both the front AND the back of the instruction card I got them to work just fine.
Cindy Hall
Mar 27, 2018 - 5/5
Amazing is all i can say, these little speakers put off a great sound. I love them so much i bought 5 more for christmas gifts.
What's in the Box?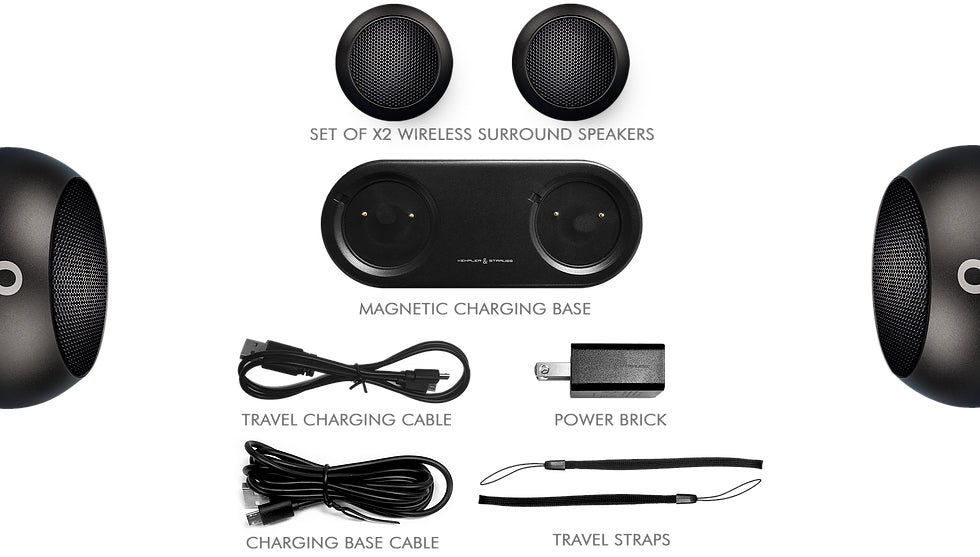 Specifications
360 Sound

Power: 150W PMPO

Frequency Range: 20Hz - 20Khz

Hands-Free Voice Control

Answer incoming calls at the tap of a button. Or don't, it's really up to you

Power

Blast beats for up to 4 hours with the built in Lithium-Ion rechargeable battery. *
Range

A 10-foot wireless connection means you can rock out without worrying about tripping on a wire.

Wireless Capabilities

The X2 sports Bluetooth® V4.2, meaning you can connect any device without a hitch.

System Requirements

The X2 are compatible with both Android™ or iOS™ devices. Minimum OS requirements are iOS 10.2 or Android 5.0.
 

Warranty

1-Year Limited Hardware Warranty

 
*Actual battery life will vary with use, settings, and environmental conditions